The Briefing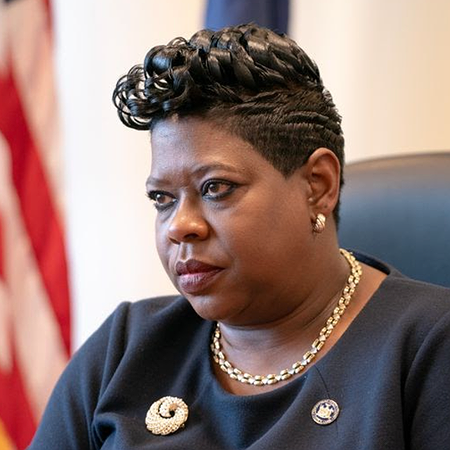 The Bronx District Attorney failed to bring a 43-count rape indictment accusing a Rikers Island doctor's assistant of raping incarcerated women to trial for more than three years, which resulted in the dismissal of the case for speedy trial violations. Bronx DA Darcel Clark previously touted the indictment as proof that the Bronx DA's Office was taking crimes against incarcerated people seriously. To make matters worse, Bronx DA Darcel Clark then lied and falsely blamed her failure to prosecute on "discovery reform"– a critical new law that brings New York in line with the rest of the country to prohibit prosecutors from their longstanding practice of withholding evidence until the eve of trial.
Here's the truth: The case had been pending for more than two years prior to the implementation of discovery reform and was dismissed a year and a half after the law went into effect. It was not dismissed because of discovery reform.
Bottom Line
Bronx District Attorney Darcel Clark utilized a widespread tactic used by police and prosecutors: Blame "reform" or other alternatives to prosecution and policing as a way to deflect attention away from their own failures and influence public opinion about new policies they disfavor.
Deeper Dive
This is a story about some of the most powerful institutional forces in New York aligning against some of the most vulnerable people in society. The Department of Corrections presides over a system where abuse, including the specific sexual abuse alleged by the women in this case, has been the norm even prior to the acute humanitarian crisis currently unfolding in City jails. Federal estimates suggest that 4% of all incarcerated people are sexually assaulted each year. The prosecution failed to turn over discovery in the case brought by these women for over three years, and has now elected to blame its failure on a law that ensures a modicum of fairness for similarly situated people—all while continuing to send people to Rikers Island daily. The City of New York's Law Department is defending against a civil suit brought by the women, and is doing so in part by seemingly admitting that rape occurred but arguing that the plaintiffs-–who legally cannot consent to sex with a jail employee—were willing participants in this scheme in which he leveraged power for sexual gratification.
While the Bronx DA's statement is false, it does reveal a truth about this opposition to the modest criminal legal reforms of 2020: Pro-incarceration actors recognize that laws affording basic rights to accused people, such as the right to see the evidence against them before they are required to decide to either enter a plea or start a trial, are the perfect scapegoat for their failures. And it is certainly true that these basic requirements mark a significant deviation from the standard practice of prosecutors, who have long counted on their ability to coerce people into guilty pleas taken in the dark.
Legal Context
Every person has the right to both see the evidence against them in a criminal prosecution and to a speedy trial. In New York State, these rights are protected by both the Constitution and by statute. The prosecution of a person cannot be indefinite, and specific speedy trial limitations and the requirement to disclose all discovery prior to trial both predate reform in New York.
Discovery reform mandated the earlier disclosure of information to the defense so that a person can see the evidence against them, or lack thereof, before they needed to choose whether to take a plea or go to trial. It connected this mandate to speedy trial by ensuring that, in many cases, the time spent waiting for discovery and evidence counts toward final speedy trial calculations.
Even prior to reform, if a felony case has more than 180 days of "chargeable" time—days that have passed while the case is pending that are not subject to exclusion from speedy trial calculations—it must be dismissed pursuant to section 30.30 of New York's Criminal Procedure Law. When the prosecution is not "ready" to bring a case to trial within the speedy trial time, the case must be dismissed. In January 2020, discovery reform brought New York State in line with requirements in jurisdictions such as Texas and North Carolina by requiring full disclosure of discovery in order to stop the speedy trial clock from ticking against the prosecution. .
Previously, the prosecution could announce "ready" for trial in order to stop this time from accruing without turning over any information to the defense. It was common for defense attorneys to receive scant information from the prosecution spread out across multiple court dates, all while the accused person languished for months and even years either in jail or free awaiting trial with an open case hanging over them. Voluminous amounts of discovery would then be provided to the defense just before trial. These last-minute disclosures, also known as "discovery dumps," often necessitated additional delays for review.
Even more commonly, these disclosures never happened at all. Around 98% of all cases never go to trial, meaning that countless guilty pleas have been entered without the accused person or their attorney able to review potentially exonerating and/or relevant information. People were forced to face the prospect of yearslong litigation, possibly ongoing incarceration, and various life disruptions should they simply want to see the evidence, or lack thereof, that the prosecution had in their case. Prosecutors could also premise pleas on a person agreeing not to ask for the discovery in their case, yanking deals known as an "exploding offers" from the table if they were asked to do paperwork allowing a person to weigh the risk of trial by reviewing the discovery they were entitled to. This practice is no longer permissible.
Reform also included requirements for reciprocal discovery—information provided to the prosecution by the defense—and mechanisms for prosecutors to request extensions when additional time is required. In practice, the speedy trial clock is rarely six calendar months for indicted felony cases. Standard proceedings such as motions to compel a person to provide DNA, motions for protective orders to redact or withhold information, and other matters routinely extend this period, and requests for discovery extensions by prosecutors are often granted by judges.
In this case, the Bronx DA had ample time to prepare for trial and share discovery. Reform is not to blame for the three-year-long failure to do either.