The Briefing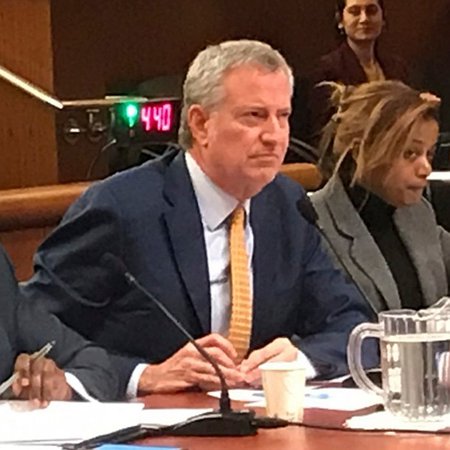 NYC Mayor Bill de Blasio has continued to misinform the public by repeating Commissioner Shea and the NYPD's debunked talking points attempting to connect criminal justice reform to a rise in certain crimes in New York City. During both an appearance on WNYC and in an address to lawmakers in Albany this week, Mayor de Blasio aligned himself with pro-carceral police groups lobbying for reform rollbacks. These groups include the Sergeants Benevolent Association, the NYPD's second-largest union, which threatened Mayor de Blasio in a public declaration of war on the official SBA Twitter account just one day before his trip to Albany.
The brains behind the account, SBA President Ed Mullins, has previously let it all hang out on social media and in communications within the NYPD. In 2019, for example, Mullins shared a racist video about the supposed perils of policing minority neighborhoods with thousands of NYPD sergeants, saying "Pay close attention to every word. You will hear what goes through the mind of real policemen every single day on the job. This is the best video I've ever seen telling the public the absolute truth." Among many racist and bigoted comments, the video referred to Black people as "monsters" and said of public housing projects, "Cops will continue to wade into that fray and Blacks will continue to attack and ambush us forever." Despite his proclamation to heed every word, Mullins later claimed he had not actually listened to the video before sharing it, and defended himself in an interview by saying, "I have Black friends." When Mullins is not lamenting bail reform or threatening the Mayor, @SBANYPD is a trove of pro-Trump and extreme rightwing posts.
The SBA's opposition to reform is yet another data point illustrating the significant overlap between the forces lobbying against the changes and far-right groups. Their interests are served by undermining bail reform, and Mayor de Blasio is caving to pressure from the right by taking a page out of their book.
Speaking to WNYC's Brian Lehrer on February 7, Mayor de Blasio stated, "We had, for six years, steady decreases in crime across the board." He goes on to describe crime as "soaring," and suggests that only bail reform can account for this data, then reiterated these points to lawmakers in Albany.
Mayor de Blasio also said, "Either we forgot how to police New York City, or there's a correlation [between rising crime and reform]." He is, however, more than happy to credit the NYPD with the decline in murder, rape and violent assault numbers. Blaming bail reform for rising numbers of other crimes is a conflicting explanation for crime stats from the same data set. Importantly, crime stats are reported by the NYPD itself, and should therefore be carefully scrutinized. The NYPD is solely responsible for enforcement and arrests, has previously manipulated arrest charge statistics, and its members and lobbying arms are engaged in an open campaign against criminal justice reform.
Real Data
The bipartisan Vera Institute of Justice released data analyzing the timing of bail reform implementation and the City's crime stats. For example, the crimes cited as rising -- robberies, burglaries and car thefts -- all increased for a period in the middle of 2019. Judges did not begin implementing the new bail law until November 2019. The data also reflects that fluctuations in short-term statistics are normal.
According to Vera, for example, "[During] the first three weeks at the beginning of January, there was a 43 percent increase in murders between 2018 and 2019—and the following year, the trend reversed. During the first three weeks of 2015, there were 819 felony assaults reported. The following year, that number jumped 25 percent—to 1,020. Grand larceny reports increased by 17 percent between the first three weeks of 2012 and the same period in 2013."
Experts agree that there is simply not enough data to connect reform to any change in crime stats: "Looking at a crime snapshot when the law has only been in effect for three weeks does little, if anything, to show the impact bail reform will have on crime rates long-term."