The Briefing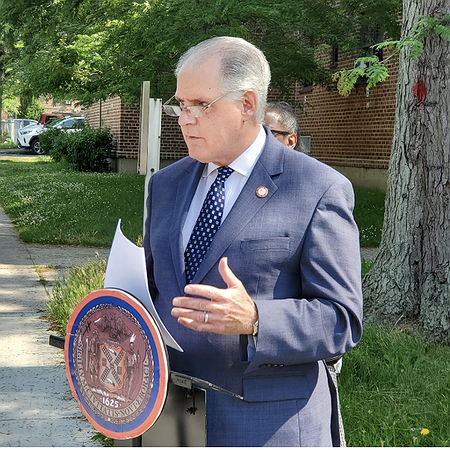 New York City Council Member James Gennaro spread misinformation and fearmongered about bail, discovery, and other modest criminal legal reforms. His claims were amplified by news outlets including QNS.
Gennaro called for policies such as the novel introduction of a so-called "dangerousness" standard in New York and the rollback of discovery laws that brought New York in line with jurisdictions such as North Carolina and Texas in its pretrial information exchange practices. "Dangerousness" has never been a standard for setting bail in New York, and the state definitively declined to adopt it in the 1970s—and for good reason. Allowing a judge's (or algorithm's) prediction of "dangerousness" to serve as a basis for holding someone in jail while they are presumed innocent has clearly yielded racist results based on data from jurisdictions that allow this practice. New York's existing bail laws already yield starkly racist results, as 93% of people currently incarcerated while presumed innocent in New York City are non-white. Further, data shows no connection between bail reform and crime. For instance, 98% of people who are free pretrial are not arrested for any violent felony charge. Even fewer are rearrested for crimes that involve any gun. As such, a determination of "dangerousness" would serve no legitimate public safety purpose, but would only increase the number of Black and brown New Yorkers who are jailed while presumed innocent.
Further, according to Gennaro, discovery reform in New York is overly burdensome. This is a familiar refrain from New York prosecutors—and it's false. New York lawmakers passed discovery reform to bring the state in line with the rest of the country in requiring prosecutors to share the information within their possession in a timely manner with people accused of crimes so that they and their attorney can make informed decisions and thoroughly prepare their case with all available information. This helped make New York law and practices more fair and just. Discovery reform ensures transparency and the protection of constitutional rights.
Prior to reform, the practice of delayed discovery by prosecutors prevented New Yorkers accused of crimes from getting an effective defense, interfered with their ability to prepare for court proceedings, and undermined their constitutional right to a speedy trial. Significant delays led to prolonged pretrial incarceration and made it more likely that a person would plead guilty out of desperation without knowing what evidence, if any, the prosecution had against them. Nearly every guilty plea prior to reform was entered without the person having the opportunity to review all the evidence against them. Discovery reform put an end to this practice.
The claim that there is an unflinching 20-35 day deadline for discovery to be completed is also completely untrue. No cases are being dismissed for failure to comply with a 35-day deadline, and prosecutors can request additional extensions that are routinely granted by the court.
Through its unquestioning reporting of these positions, the QNS article served as an endorsement of Gennaro's baseless claims. The outlet itself, reporting the story as news, used inflammatory and biased phrases like "loose bail reform laws," "underage criminals," "overly burdensome discovery rules," and "dangerous criminals out on the street" in its reporting—even outside of quoted language from Gennaro and other anti-reform policymakers.
Despite acknowledging the fact that pretrial reform does not lead to crime, Governor Kathy Hochul implemented rollbacks to the laws during this year's New York State budget in April 2022. These changes were made at the behest of policymakers like Gennaro, who often perversely cited public opinion as justification for their baseless opposition to reforms—the same public opinion they intentionally fomented against the modest reforms using falsehoods like those contained in the QNS article. The continued misinformation campaign even after two rounds of Democrat-implemented rollbacks to these reforms, against all evidence, is proof that reform opponents will not be satisfied by policy concessions short of automatic, indefinite incarceration upon arrest.